Vardhanthi Celebrations Day 5 – 23th November 2012
Vardhanthi Celebrations was a grand one with various poojas and homams being performed. The day began with Sri Maha Ganapathi Homam, Vaasthu Kalasam, Avahanthi Kalasa Pooja, Vaasthu Japam – Avahanthi Japam. Sri Maha Vaasthu Homam was performed, followed by Poornahuthi, Mangala Arathi and Annadanam.
More than 8000 people were served Annadana Prasadam during these 5 days.
The evening programme was one of the most-eagerly awaited events – a drama on 'Ramayana Maha Kaviyam', presented by Sai Krupa Balvikas children and Youth wing members. The event was aptly honoured by Smt.Lakshmi Sivachandran, a veteran film actress and Sai devotee. Complete with props, backdrops and costumes, the drama featured various episodes from Ramayana, an epic that towers above many others even today, because of its relevance in our day-to-day lives. The performance of the actors was thoroughly enjoyed and appreciated by one and all in the audience.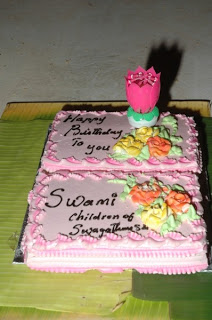 The day ended with cake-cutting for our Beloved Swami, Mangala Aarthi and Anna danam.
The 5-day programme was like a long-running festival for all Sai devotees, who participated in good numbers in every event. The festivities ended on a happy note, with the rain-god blessing all with beautiful showers on Swami's birthday.